Experience the beauty of the Cairngorms with a winter snowcation
The Cairngorms is the ultimate year-round adventure playground. Here at Cairngorm Lodges, we genuinely believe you could never truly 'complete' the Cairngorms; there's always something waiting around the corner – or a piece of land that remains untouched, just waiting to be discovered. And it's really no surprise – the Cairngorms National Park has more mountains, forest paths, rivers, lochs, wildlife spots, villages and distilleries to last you a lifetime.  
In the Cairngorms, you'll also find five of the UK's six highest mountains – five! Along with 55 Munros (mountains that peak at over 3000ft), did we mention that the Cairngorms also holds the UK's biggest national park title: twice the size of the Lake District, to be precise. Is it also bigger than the whole country of Luxembourg? Talk about impressive. The beauty of it all is that it can be enjoyed whatever the season – even in the sometimes baltic temperatures of the Scottish winter.  
We have all become very aware of the term 'staycation' over the past few years. But have you ever thought of taking a 'snowcation'? A snowcation is essentially a staycation, but the only difference is that you embrace the natural snowy elements of your own country (in our case, Scotland). When taking a snowcation you can indulge in Scotland's very own snowsports offering rather than jetting abroad to one of the more popular European ski resorts.  
So, how can you snowcation with us, you might ask? Well, the beauty of our location is that we're near most of Scotland's five ski resorts. Surrounded by beautiful Highland scenery, Scotland's ski centres are accessible from our location and offer great snow-tastic opportunities for novices and seasoned snow sporters alike. The closest slopes to us are the Lecht 2090 and Glenshee Snowsports Centre.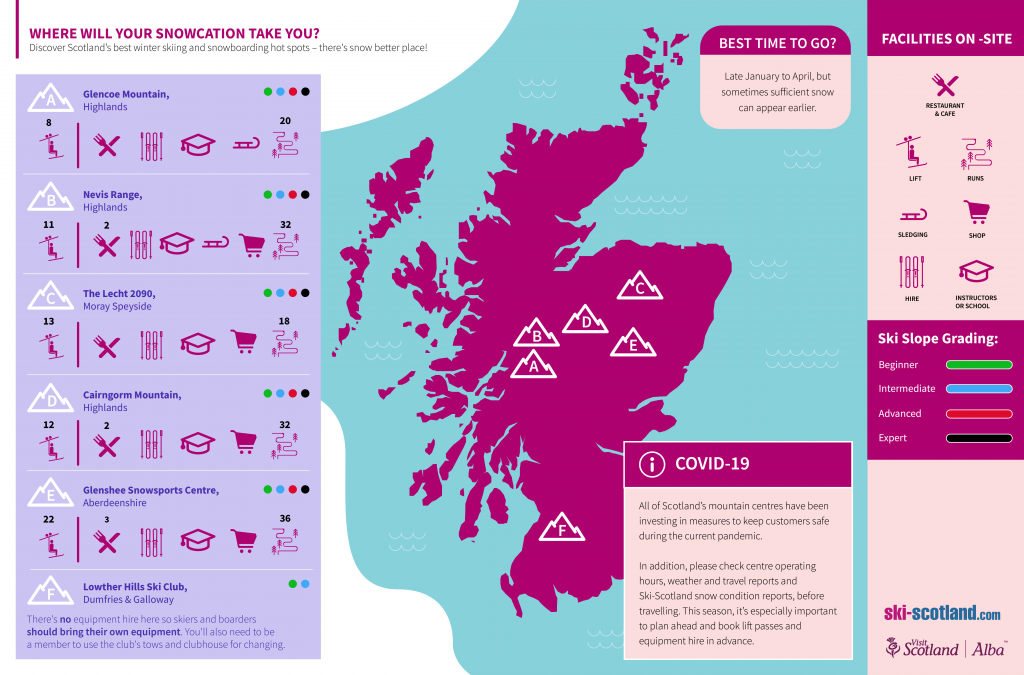 The Lecht 2090, Moray Speyside
Situated just 20 miles from us, the Letch 2090 is only a half-hour away from the peacefulness of our lodges. If the first sight of snow has inspired you to learn how to ski, or if it's just something that's on your bucket list, then a visit to Lecht might be on the cards when you stay with us. 
The Lecht is an excellent starter slope for beginners or families with wee ones who are just finding their snow feet. As it has fewer runs than other ski resorts in Scotland, it tends to be a bit quieter than the rest, so it will give you plenty of time to master your skills!
Glenshee Snowsports Centre, Aberdeenshire
Glenshee Snowsports Centre is just about a 45-minute drive from us, making it perfect for a wee day trip away from the lodges. It doesn't get any better than Glenshee when it comes to picturesque views. One of the country's first commercially operating ski resorts, it truly is a historical skiers' paradise. 
Glenshee consists of 20 runs serviced by eight lifts and includes both the longest run and the steepest runs in Scotland – perfect for adrenaline junkies.
Ready for your snowcation now? Book your stay today!